Happy 35th Anniversary, AOP!
Posted in Homeschool View on Thursday, September 6, 2012
In 1977, Jimmy Carter was elected president, a gallon of gas cost 65 cents,
Star Wars
ruled the box office, and Elvis died. That same year gave birth to Apple Computer, Inc., the U.S. Department of Energy, and Alpha Omega Publications.
A lot has changed in 35 years. While computers have slimmed down from DOS-spewing dinosaurs to lightning-quick laptops no thicker than a notebook, AOP has grown from a fledgling curriculum provider with one print product to an academically and technologically savvy empire with print and digital products, an online academy, and more.
1977.
Alpha Omega Publications was formed
to meet the need for high-quality and user-friendly educational materials in a fast-growing Christian school movement.
1978.
LIFEPAC was born
. Written and edited by 187 educators, it offered biblical integration throughout five subjects for grades 1-12.
1986.
AOP entered the homeschooling market
.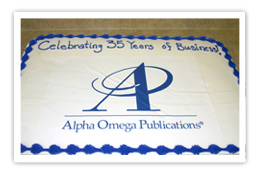 1992.
Horizons debuted
with two courses, Math 1 and 2, a spiral learning method, lesson plans, and teaching strategies.
1992.
Alpha Omega Institute was established
to serve students in grades K-8 via mail correspondence. 2012 marks the 20th anniversary of this distance learning academy.
1994.
BMG bought AOP
.
Bridgestone Multimedia Group
brought a full line of family videos and an established market relationship with Christian book stores.
1995.
Chandler became the company's headquarters
. BMG purchased the building at 300 N. McKemy in Chandler, Arizona, and sold its office in Carlsbad, California. AOP sold its building in Tempe, Arizona, closed two remote offices, and moved all operations to Chandler.
1995.
LIFEPAC gained color
. The project included converting 50,000 pages of artwork to electronic files, re-editing all units, and consolidating teacher's handbooks, score keys, and manuals into one guide per grade level.
1996.
Alpha Omega Institute became Bridgestone Academy
. AOP also introduced LIFEPAC Gold and placement tests.
1997.
AOP released Switched-On Schoolhouse
, an interactive CD-ROM curriculum. The 2012 version of SOS is a special 15th anniversary edition of AOP's first computer-based curriculum. Also in 1997, Bridgestone Academy added high school courses.
1998.
AOP released The Weaver Curriculum
, a unit study, Bible-based homeschool program for students in grades PreK-12.
1998.
AOP launched Bridgestone Online Academy
.
2000.
Bridgestone Academy became
Alpha Omega Academy
.
2002.
AOP partnered with Power-Glide
, a foreign language publisher, to release Introductory Spanish and French the following year.
2004.
AOP opened its Rock Rapids office
. Growth called for AOP to move its distribution, customer service, and technical support operations to Iowa.
2005.
Rock Rapids became the headquarters for AOP
.
2007.
AOP launched Horizons Preschool and division specific websites
that offered free resources by email, including the
Homeschool View
newsletter and NetAlerts.
2010.
AOP launched Monarch
, AOP's first online curriculum for homeschooling. In addition, gobmg.com was expanded to include a web store.
2012.
Horizons Math expanded
through Horizons Algebra I. This year, AOP is also introducing Horizons 3rd Grade Phonics & Reading.