Monarch 9th Grade Science Lab Kit
Product Id - AO-KITSS09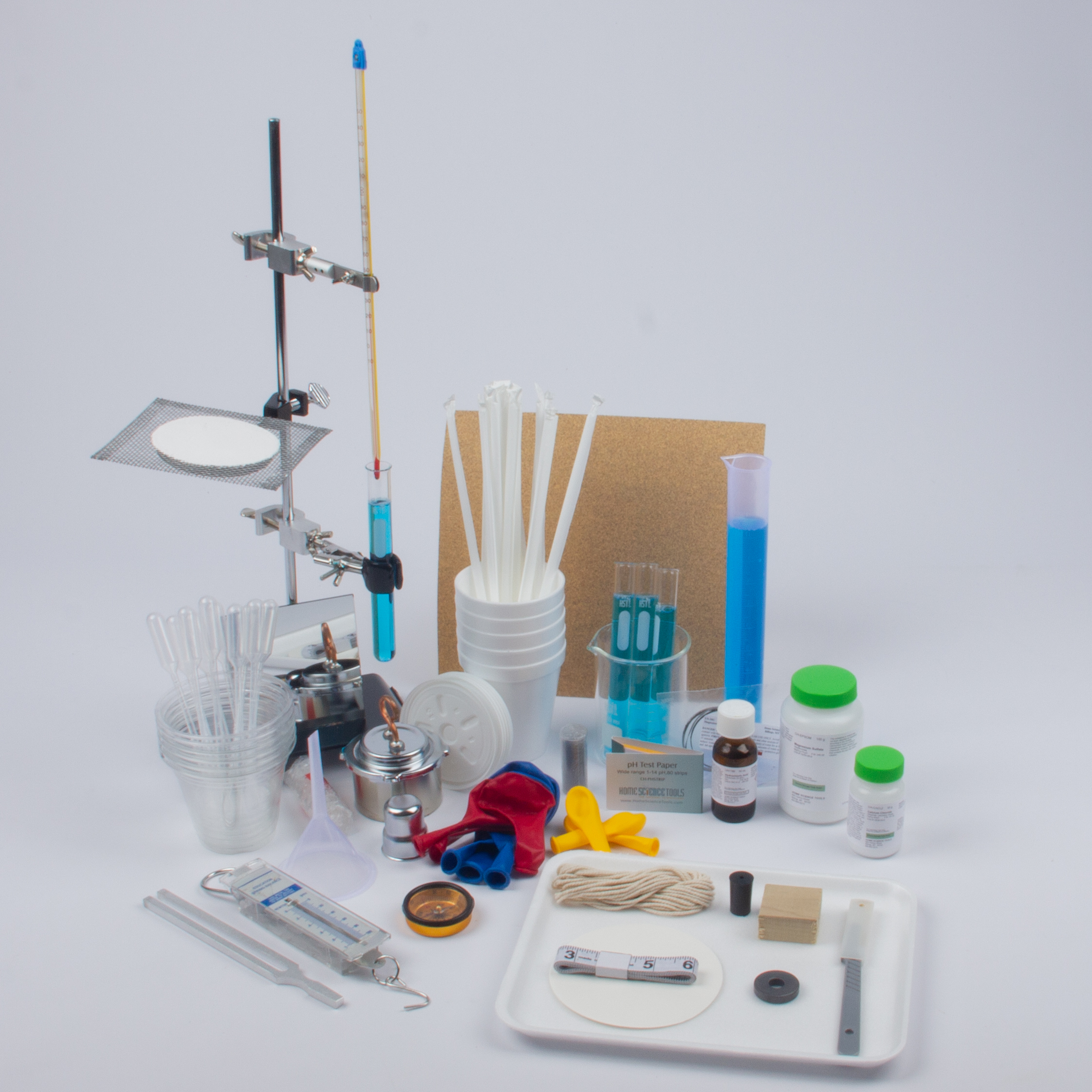 Find the science equipment and materials needed to complete 9th grade lab content in the Monarch curriculum with this lab kit from Home Science Tools. The most convenient way to get lab materials, this kit contains the 38 most commonly ordered items for completing most activities in the science curriculum, including a ring stand, alcohol lamp, beaker, and more.
This item is only available in the continental United States.
Description
The 9th Grade Science Lab Kit from Home Science Tools contains the 38 most commonly ordered items for completing most activities in the Monarch 9th Grade Science Curriculum. Materials help you complete activities throughout the year that teach students about density, atomic structure, chemical changes, viscosity, pressure in gases, and more.
Lab Kit Contents
Tape measure, flexible, 150 cm
Dissecting tray, Styrofoam
Alcohol lamp burner, wickless
Test tubes, large 16x150 mm
Compass, magnetic, 1-1/2 diameter
Filter paper, 11 cm, 10 sheets
Funnel, plastic, 65 mm diameter
Mirror, glass, flat, 4"x 4"
Tube, 2/pack, 5 mm glass, 3" long
Hydrochloric acid, 30 ml
Calcium chloride, 30 g
Iron metal filings, 30 g
Balloon set, 9 pieces
String, heavy cord, 25 ft.
Straw set, 15 pieces
Wood block, 1.5" x 1.5" x 0.75"
Cup, clear plastic, 9 oz., 3/pack
Ring support stand, 4"x 6" base, 18" rod
Ring support, 3" diameter
Wire gauze, ceramic center, 5" square
Pipet, disposable, 1 ml, 10 pack
Clamp, burette
Thermometer, Celsius, 12"
Protractor, 6" semi-circle
Graduated cylinder, polypropylene, 100 ml
Magnesium sulfate, 100 g
Tuning fork, C, 256 cps
Ring magnet, 1-1/8" OD
Magnesium ribbon, 60 cm
Spring scale, 100 g/1 Newton
Sandpaper, 1 sheet medium grit
pH papers, 1-14 range, 80/pack
Scalpel, plastic handle, #22
Clamp, thermometer
Beaker, glass, 250 ml, HST
Rubber stopper, #0, 1 hole
Styrofoam cup, 8 oz., each
Styrofoam cup lid, each
Science kits are shipped independently. Freight is included in the lab kit pricing. Because this lab kit contains "UN" chemicals, your order can only be shipped via economy or ground service.